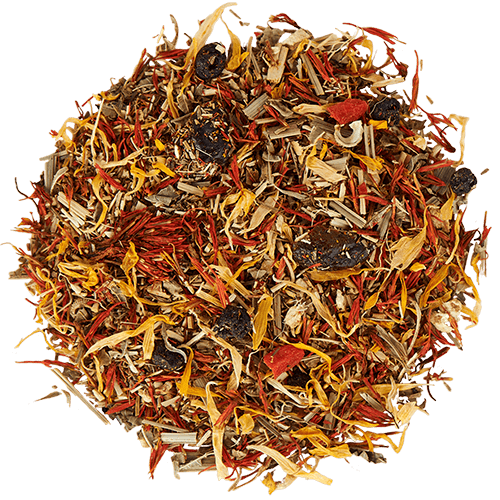 DESCRIPTION
Who knew organic rooibos tea could be so powerful?  Go Go Goji Turmeric Organic Rooibos Tea blurs the boundaries between excellent health and phenomenal flavor. Based in green rooibos, this caffeine free tea takes on the bold flavors of blueberry, lemon balm, cherries and goji berries, adding in a healthy dose of  inflammation-fighting turmeric and ginger to complete the balance.  Zesty citrus infused with fruity flavor, enjoy hot or iced.
TASTING NOTES
Ginger and lemon intermingled with a blueberry flavor
INGREDIENTS
Green Rooibos*, Organic Flavor*, Goji Berries*, Lemonbalm*, Blueberry*,  Cherry*, Ginger*,  Turmeric*, Lemongrass*, Calendula*, Safflower*, *Certified Organic
Caffeine

Who Grew Your Tea?
South Africa is best known in the tea world for Rooibos and Honeybush. Fraser Tea carefully sources both Organic varieties from this region.  These native plants produce caffeine-free and healthful herbal teas, or tisanes. The plants are native to and grown...
Learn More
Brewing Method

1 tsp/sachet

205°F

5 min

2 tsp/sachets
for iced tea