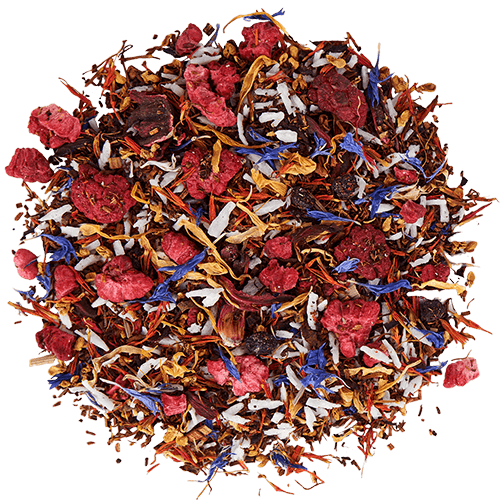 DESCRIPTION
Fair Trade Certified™ Rainbow Rooibos Organic Herbal Tea is a bright blend of fresh organic fruit and herbs combined to create a sweet burst of flavor with every sip.  Sweet Michigan cherries, tart red raspberries, a hint of coconut, and dash of fresh lemongrass blend seamlessly with naturally sweet organic rooibos and honeybush teas. Organic, healthy, flavorful, and easy to drink, it's the perfect alternative to sugary, caffeinated beverages.
TASTING NOTES
Fresh raspberry flavor naturally sweetened by honeybush with mildly tart raspberry finish
INGREDIENTS
Fair Trade Certified™** Rooibos*, Honeybush*, Organic Flavor*, Hibiscus*, Blueberry*, Raspberries*, Coconut*, Cherries*, Lemongrass*, Osmanthus*, Safflower*, *Certified Organic  **30% of Product

Caffeine

Who Grew Your Tea?
South Africa is best known in the tea world for Rooibos and Honeybush. Fraser Tea carefully sources both Organic varieties from this region.  These native plants produce caffeine-free and healthful herbal teas, or tisanes. The plants are native to and grown...
Learn More
Brewing Method

1 tsp/sachet

205°F

5 min

2 tsp/sachets
for iced tea