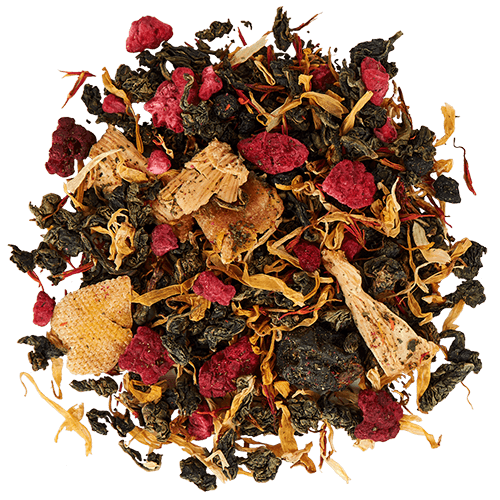 DESCRIPTION
Watermelon Mint Organic Oolong Tea blends a multitude of delicious fruit flavors with fresh mint for a delightfully refreshing taste.  Michigan-grown sweet cherries, succulent pineapples, juicy raspberries, and ripe blueberries  infuse with watermelon and mint to deliver an iced tea that is healthy, light and refreshing.
TASTING NOTES
Sweet Watermelon flavor with rich fruit and mint.
INGREDIENTS
Oolong Tea*, Blueberries*, Cherries*, Spearmint*, Peppermint*, Organic Flavor*, Pineapples*, Mango*, Raspberries*, Calendula*, Safflower*,  *Certified Organic
Caffeine

Who Grew Your Tea?
China leads the world when it comes to the production of tea.The tea industry accounts for more than 1 million tons of tea harvested annually and employs more than 80 million people. When Fraser Tea founders sought to source its...
Learn More
Brewing Method

1 tsp/sachet

195°F

3 min

2 tsp/sachets
for iced tea