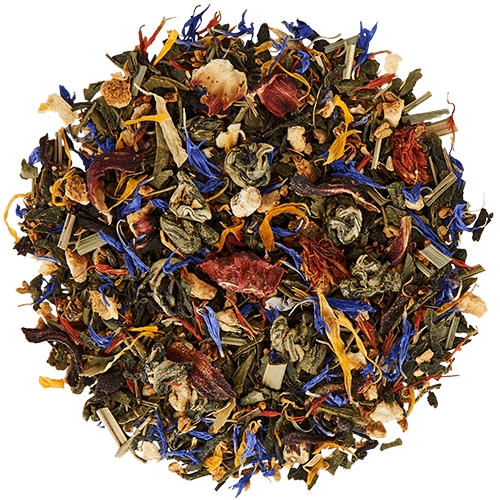 DESCRIPTION
Jasmine Dandelion Detox Organic Green Tea is the perfect beverage to add to your health regimen without sacrificing flavor.  Known for its detoxifying effects, Dandelion is infused with green and jasmine teas, licorice root, ginger, lemongrass, and organic herbs to deliver full flavor and detoxifying health benefits.  This powerhouse of tea is blended with your health and wellness in mind.
TASTING NOTES
Sweet and delicate jasmine with delicate floral notes and a refreshing finish
INGREDIENTS
Ingredients: Green Tea*, Dandelion Root*, Turmeric*, Ginger*, Organic Flavor*, Lemon grass*, Hibiscus*, Licorice Root*,  Calendula*, Osmanthus*, Cornflower*, Safflower*,  *Certified Organic
Caffeine

Who Grew Your Tea?
China leads the world when it comes to the production of tea.The tea industry accounts for more than 1 million tons of tea harvested annually and employs more than 80 million people. When Fraser Tea founders sought to source its...
Learn More
Brewing Method

1 tsp/sachet

175°F

2 min

2 tsp/sachets
for iced tea