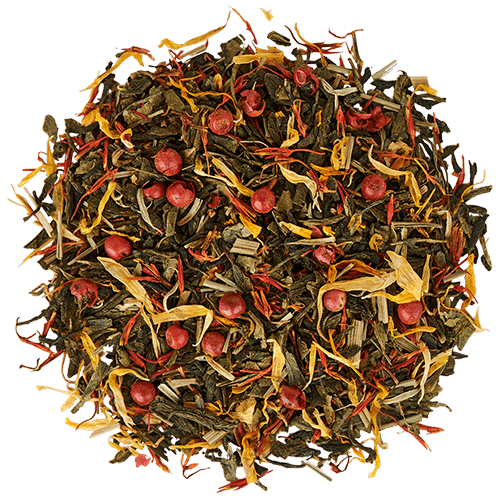 DESCRIPTION
Turmeric Ginger Organic Green Tea delivers a multitude of health benefits in a delicious and flavorful way.  Green tea is blended with cinnamon, ginger, pink peppercorn, lemongrass, and turmeric offering a sweet and unexpected fresh taste. Known as a "superfood", turmeric's list of health benefits include boosting your body's immunity, anti-inflammatory properties, improved brain function, and heart-health.
TASTING NOTES
A refreshing lemon-ginger blend with just a hint of spicy turmeric.
INGREDIENTS
Green Tea*, Cinnamon*, Organic Flavor*, Turmeric*, Ginger*, Pink Peppercorn*, Lemongrass*, Calendula* Safflower*, *Certified Organic
Caffeine

Who Grew Your Tea?
China leads the world when it comes to the production of tea.The tea industry accounts for more than 1 million tons of tea harvested annually and employs more than 80 million people. When Fraser Tea founders sought to source its...
Learn More
Brewing Method

1 tsp/sachet

175°F

2 min

2 tsp/sachets
for iced tea