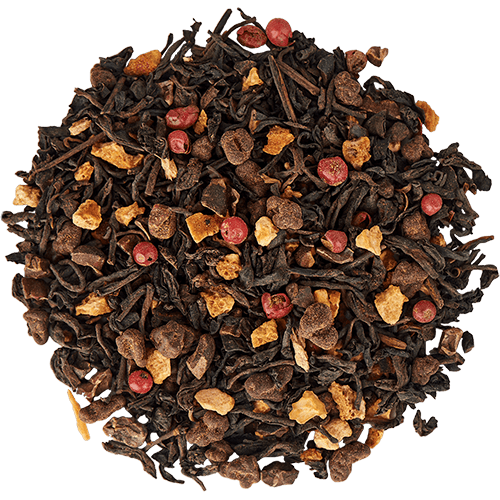 DESCRIPTION
Spicy Chocolate Chai Organic Pu-erh Tea is a fusion of cocoa nibs, spicy chili peppers, and delicate, sweet oranges combined to craft a flavor sensation with maximum health benefits. Striking a delicate balance between heat and sweetness, spicy chocolate chai is a smooth and flavorful tea that supports weight management and wellness.  Enjoy any time.  Try it as-is or add milk and sugar.
TASTING NOTES
Enticing dark chocolate and spicy flavor with smooth orange aroma
INGREDIENTS
Puerh Tea*, Cinnamon*, Cocoa Nibs*, Orange Peel*, Organic Flavors*, Red Chili Pepper*, Peppercorn*, Ginger*, Cardamom Seed*,       *Certified Organic
Caffeine

Who Grew Your Tea?
China leads the world when it comes to the production of tea.The tea industry accounts for more than 1 million tons of tea harvested annually and employs more than 80 million people. When Fraser Tea founders sought to source its...
Learn More
Brewing Method

1 tsp/sachet

195°F

2-3 min

2 tsp/sachets
for iced tea