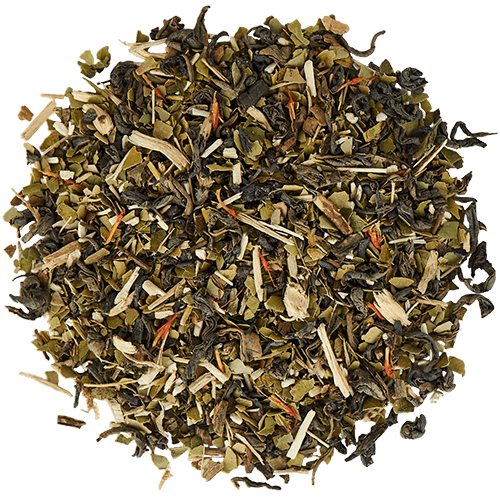 DESCRIPTION
Looking for an energizing tea that will help you make the most of your daily workout? Look no further than Fraser Tea's Super Energized Organic Tea! This vibrant blend combines South American Yerba mate with invigorating peppermint, sophisticated green tea, and an array of florals and organic orange flavor extract to amplify the natural benefits of each ingredient. Yerba mate is traditionally consumed with a gourd and straw in South America, but you can enjoy it any way you like - just add hot water and steep for 3-5 minutes. Our Super Energized Tea is the perfect pick-me-up for those mornings when you need an extra boost of energy - or anytime you need a natural source of caffeine!

TASTING NOTES
A tempered mate taste and mild refreshing citrus flavor.
INGREDIENTS
Green Tea*, Yerba Mate*, Organic Flavor*, Eleuthero Root*,  Peppermint*,  Stevia Leaf*,
*Certified Organic
Caffeine

Who Grew Your Tea?
China leads the world when it comes to the production of tea.The tea industry accounts for more than 1 million tons of tea harvested annually and employs more than 80 million people. When Fraser Tea founders sought to source its...
Learn More
Brewing Method

1 tsp/sachet

175°F

2 min

2 tsp/sachets
for iced tea