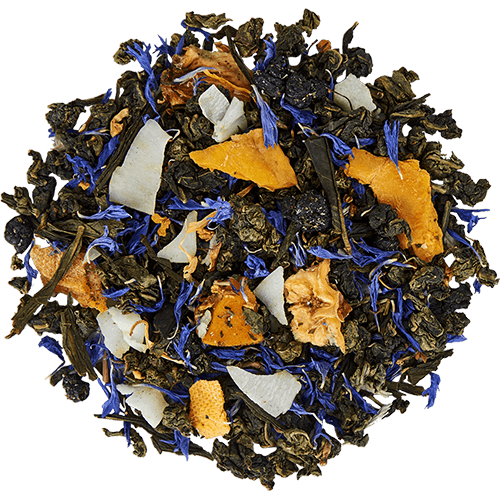 DESCRIPTION
A virtual summer picnic in your glass, Watermelon Oolong Organic Oolong Tea combines fresh berries and tropical fruit flavors together with lemongrass for a crisp and refreshing taste.  This superior grade organic oolong tea offers numerous nutritional benefits including weight management, diabetes management, and mental health.  Think wellness; embrace flavor.
TASTING NOTES
Delicate watermelon and tropical flavor with light floral aromas
INGREDIENTS
Oolong Tea*, Green Tea*, Organic Flavor*, Blueberries*, Coconut*, Mango*, Pineapples*, Lemongrass*,  Osmanthus*, Cornflower*,  *Certified Organic
Caffeine

Who Grew Your Tea?
China leads the world when it comes to the production of tea.The tea industry accounts for more than 1 million tons of tea harvested annually and employs more than 80 million people. When Fraser Tea founders sought to source its...
Learn More
Brewing Method

1 tsp/sachet

195°F

3 min

2 tsp/sachets
for iced tea