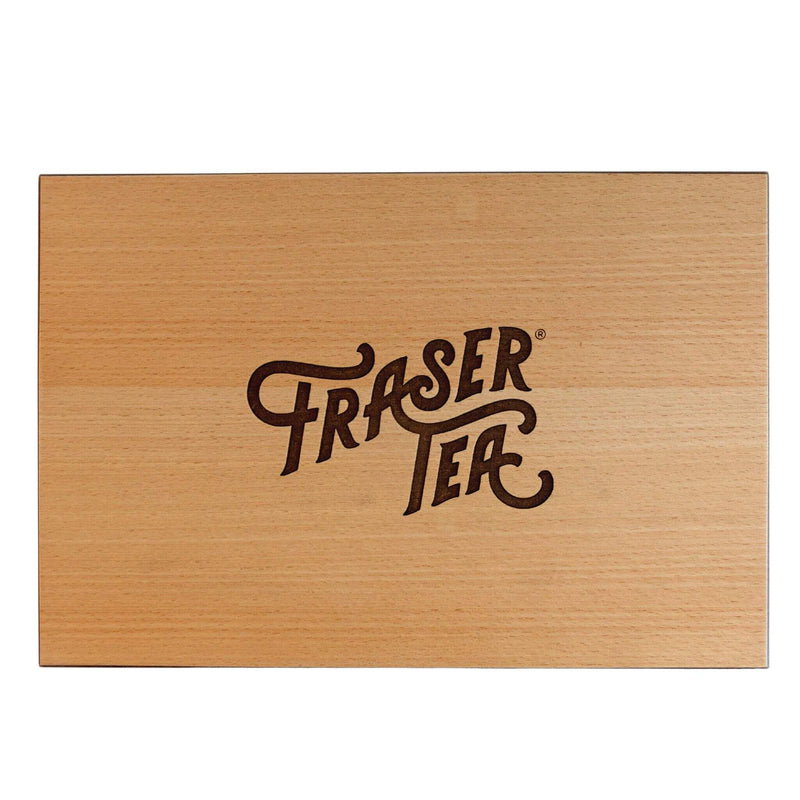 Arrange and store your tea bags in a stylish Wooden Tea Box Organizer – this tea caddy is the perfect addition to all your teaware accessories. This elegant tea caddy is made from natural birch wood and is a beautiful way to display your organic Fraser Tea® sachets – all in one convenient location. 
Practical and space saving, the magnetic lid allows the tea storage box to be displayed flat or upright.  Suitable for the home, office, restaurants, hotels and more – place the tea chest on any countertop or cabinet to keep your teas organized.
This tea bag storage box is (12 ¼ "W x 8 ¼" L x 4 ¼ "H) and has 6 equally divided compartments (3 ¾ "x 3 ¾") in diameter. Each compartment will hold up to 12 individually wrapped Fraser Tea® sachets. Choose 6 boxes of your favorite Fraser Tea blends with your order to fill your wood tea box.
This sturdy wooden tea box can also be used to store kitchen accessories, office supplies, jewelry, crafts, or other small items.   Easily cleaned with a damp cloth.
***Price includes shipping. Teas sold separately.
About our teaware
Fraser Tea founders understand the importance of crafting the perfect cup of tea. From timeless traditions to tea ceremonies and a glass of iced tea on the run, Fraser Tea offers high quality accessories to make the process of brewing healthy and organic tea simple. From stainless steel tea infusers to bamboo matcha whisks, cast iron tea pots to glass iced tea makers, all accessories are crafted with wellness in mind.