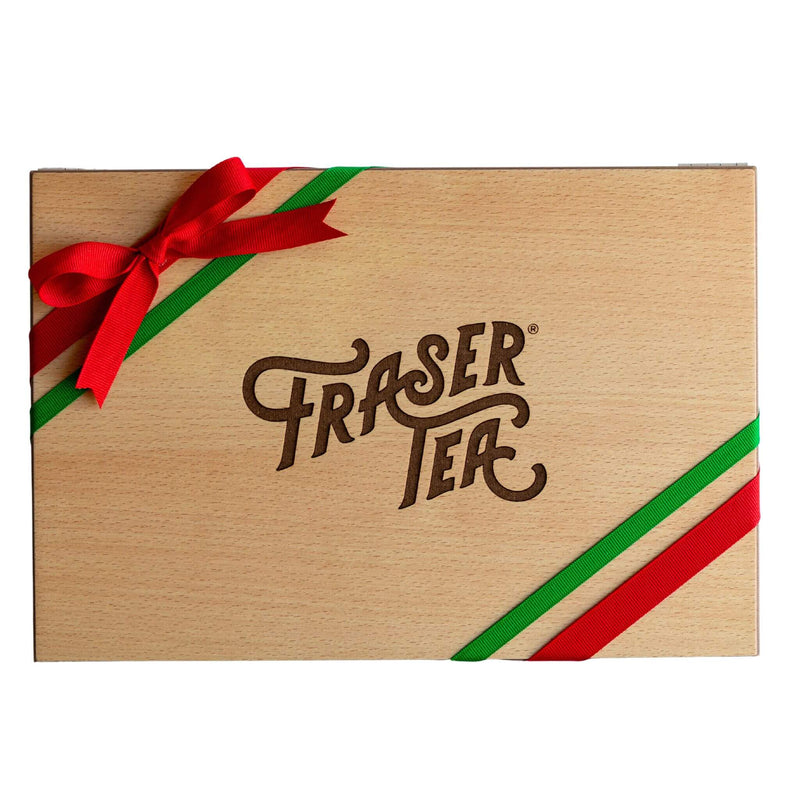 Delight a tea lover with a decorative gourmet Signature Tea Sampler Gift Box. 55 individually wrapped organic signature teas are beautifully displayed in the Fraser Tea Wooden Tea Box Organizer. Beautifully packaged for gift giving, this box includes an enclosed personalized gift note, and can be delivered to send the warmest wishes for a happy holiday season. Perfect housewarming gift for the host or hostess, Thanksgiving, Christmas, Hanukkah, Kwanzaa, or corporate gift.
The luxury tea sampler gift set includes a wide variety of our 16 signature blend teas to bring a little joy to someone special. Each premium whole leaf organic tea blend is certified organic and kosher. Our signature non-GMO pyramidal tea bags allow the delicate tea leaves to open fully and deliver a flavorful cozy cup of tea – each and every time.
Signature Organic Tea Sampler Gift Box Includes:
1 beautifully engraved Fraser Tea Wooden Tea Box Organizer. Dimensions are 12 ¼ "W x 8 ¼" L x 4 ¼ "H.
4 Sachets of: Hot Spicy Cinnamon Made w/ Organic Black Tea and Cream Earl Grey Organic Black Tea, Morning Blend Organic Black Tea,  Turmeric Ginger Organic Green Tea, Minty Green Organic Green Tea, Organic Green Tea Blend, Chamomile Dream Organic Herbal Tea.
3 Sachets of: Spicy Chocolate Chai Organic Pu-erh Tea, Watermelon Oolong Organic Oolong Tea,  Emperors Finest Berry Organic Matcha, Peach Mango Organic White Tea, Fruity Bubblegum Organic White Tea,  Yuzu Blue Passionfruit Organic Herbal Tea, Peppermint Stick Organic Herbal Tea, Rainbow Rooibos Organic Rooibos Tea and Vanilla Rooibos Organic Rooibos Tea.
Decorated for gift giving and includes a personalized gift note.
***Price includes shipping
About our teaware
Fraser Tea founders understand the importance of crafting the perfect cup of tea. From timeless traditions to tea ceremonies and a glass of iced tea on the run, Fraser Tea offers high quality accessories to make the process of brewing healthy and organic tea simple. From stainless steel tea infusers to bamboo matcha whisks, cast iron tea pots to glass iced tea makers, all accessories are crafted with wellness in mind.