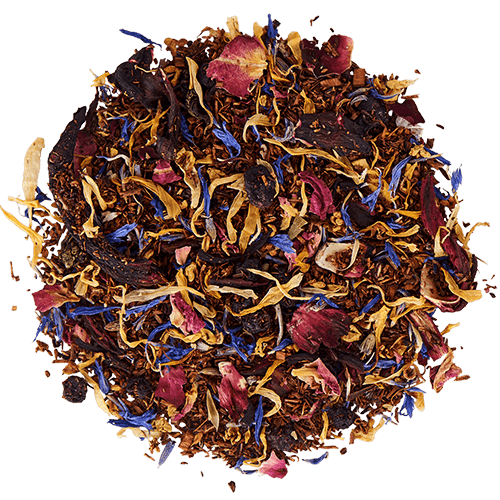 DESCRIPTION
Blueberry Organic Rooibos Tea is considered a local favorite for Michigan-based Fraser Tea. Grown abundantly in the Midwest, the healthy blueberry finds its way onto our pancakes, flavoring our syrups, and now into our tea. Master blenders combine crisp blueberry and tangy hibiscus, soft rose, and lavender petals with an organic rooibos filled with healthy antioxidant properties. This mellow, nutritious all-day tea comes to you naturally caffeine free and offers a healthy drink alternative for the entire family. Enjoy over ice, slightly sweetened, or warm.
TASTING NOTES
Sweet honey with tart fruity flavors and hints of roses and blueberry aroma
INGREDIENTS
Rooibos*, Honeybush*, Organic Flavor*, Blueberry*, Hibiscus*, Lavender*,  Calendula*, Osmanthus*, Cornflower*, Rose Petal*   *Certified Organic
Caffeine

Who Grew Your Tea?
South Africa is best known in the tea world for Rooibos and Honeybush. Fraser Tea carefully sources both Organic varieties from this region.  These native plants produce caffeine-free and healthful herbal teas, or tisanes. The plants are native to and grown...
Learn More
Brewing Method

1 tsp/sachet

205°F

5 min

2 tsp/sachets
for iced tea