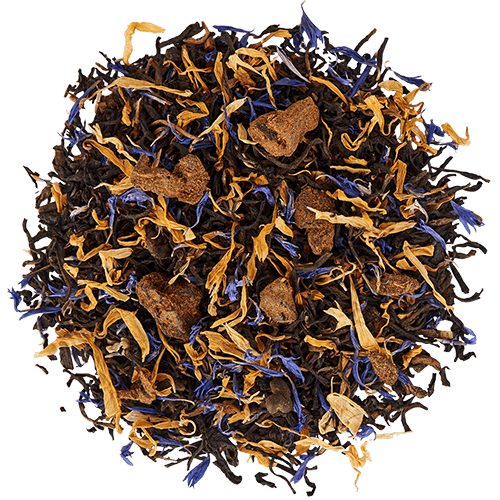 DESCRIPTION
Reminiscent of a decadent martini made with a kiss of creamy dark chocolate and sweetened naturally using only organic flavors, Chocolate Martini Organic Black Tea is a guilt free and healthy indulgence.  Blending rooibos, Michigan-grown cherries, cinnamon, and cocoa, you can feel good about pouring yourself this sweet take on a martini as it is blended with organic Pu-erh, a tea known best as a weight management aid. Looking to splurge?  Add a dash of chocolate vodka and organic sugar for a blissful cocktail treat.
TASTING NOTES
Sweet earthy chocolate and fruity cherry flavors with enticing chocolate aroma
INGREDIENTS
Black Tea*, Rooibos*, Puerh*, Organic Flavor*, Cocoa Nibs*, Cherries*,  Cinnamon*, Cornflower*, Calendula*, *Certified Organic
Caffeine

Who Grew Your Tea?
China leads the world when it comes to the production of tea.The tea industry accounts for more than 1 million tons of tea harvested annually and employs more than 80 million people. When Fraser Tea founders sought to source its...
Learn More
Brewing Method

1 tsp/sachet

195 - 205°F

3 min

2 tsp/sachets
for iced tea