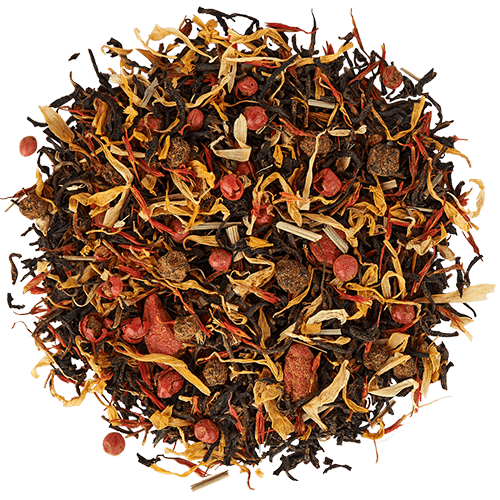 DESCRIPTION
Our Athlete's Recovery Organic Black Tea combines rich blueberries and sweet cherries, from the shoreline of Lake Michigan, with turmeric and ginger to create a recovery blend to help fight inflammation and support an active lifestyle.  Enjoy this heart-healthy and detoxifying blend as an iced tea- its refreshing. Crafted and inspired by long summer days of sipping fruit punch in the sun, Athlete's Recovery tea may help dial back the effects of aging in a fresh, flavorful and wholesome way.
TASTING NOTE
Fresh and fruity with slightly spicy flavors and notes of fresh lemons 
INGREDIENTS
Black Tea*, Cinnamon*, Organic Flavor*,  Ginger*, Blueberries*, Cherries*, Goji*, Turmeric*, Lemon grass*, Peppercorn*, Calendula*, Safflower*, *Certified Organic

Caffeine

Who Grew Your Tea?
Here is a trivia question.  Tea comes from: India Japan The United States of America All the Above If you guessed D, your right. But wait, is this a trick question?  On the one hand, if we are talking about...
Learn More
Brewing Method

1 tsp/sachet

195 - 205°F

3 min

2 tsp/sachets
for iced tea