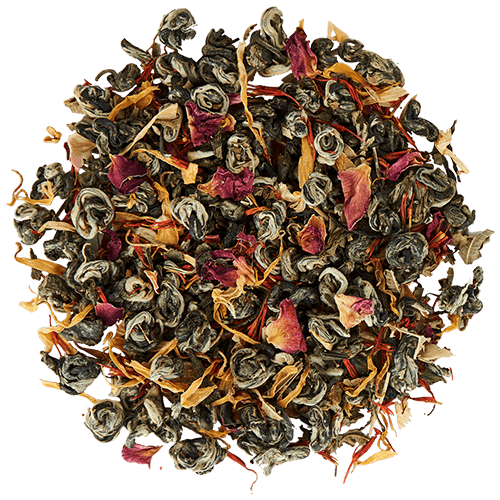 DESCRIPTION
Jasmine Rose Organic Green Tea blends two soothing florals into an antioxidant rich organic green tea creating a relaxing and healthy beverage for day or night. The delicate green tea is scented with both jasmine blossoms and rose petals to produce its heady aroma.  Commonly used as an anti-depressant in traditional Chinese medicine, this lovely blend creates a gentle, relaxing, soothing sensation.
TASTING NOTES
Mild calming floral aroma and gentle refreshing flavor
INGREDIENTS
Jasmine Pearls*, Green Tea*, Rose Petal*, Organic Flavor*, Lemongrass*, Lemonbalm*,  Safflower*, Calendula*,   *Certified Organic
Caffeine

Who Grew Your Tea?
China leads the world when it comes to the production of tea.The tea industry accounts for more than 1 million tons of tea harvested annually and employs more than 80 million people. When Fraser Tea founders sought to source its...
Learn More
Brewing Method

1 tsp/sachet

175°F

2 min

2 tsp/sachets
for iced tea