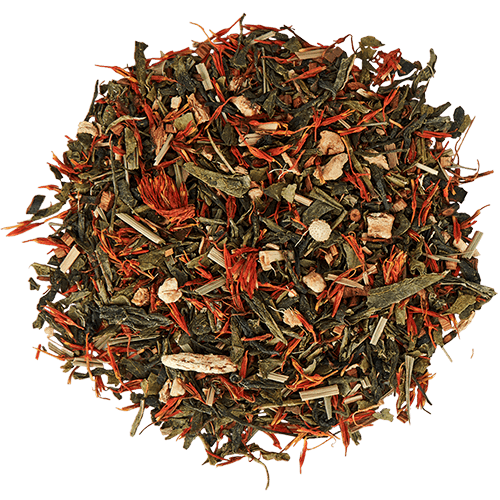 DESCRIPTION
Hangover Helper Organic Green Tea is handcrafted to help you recover from a night of overindulgence. Thanks to the organic blend of sharp ginger and fresh mint, combined with the sweetness of honey, Hangover Helper can help replenish lost fluids while lemon balm and dandelion root work to detoxify the liver. This is a healthful and tasty tea option anytime, hot or iced.
TASTING NOTES
Sweet and zesty flavors with subtle mint undertones and clean, refreshing lemon finish
INGREDIENTS
Green Tea*, Honeybush*, Ginger*, Organic Flavor*, Lemon Balm*, Lemongrass*, Peppermint*, Spearmint*, Turmeric*, Dandelion Root*, Safflower*, * Certified Organic
Caffeine

Who Grew Your Tea?
China leads the world when it comes to the production of tea.The tea industry accounts for more than 1 million tons of tea harvested annually and employs more than 80 million people. When Fraser Tea founders sought to source its...
Learn More
Brewing Method

1 tsp/sachet

175°F

2 min

2 tsp/sachets
for iced tea