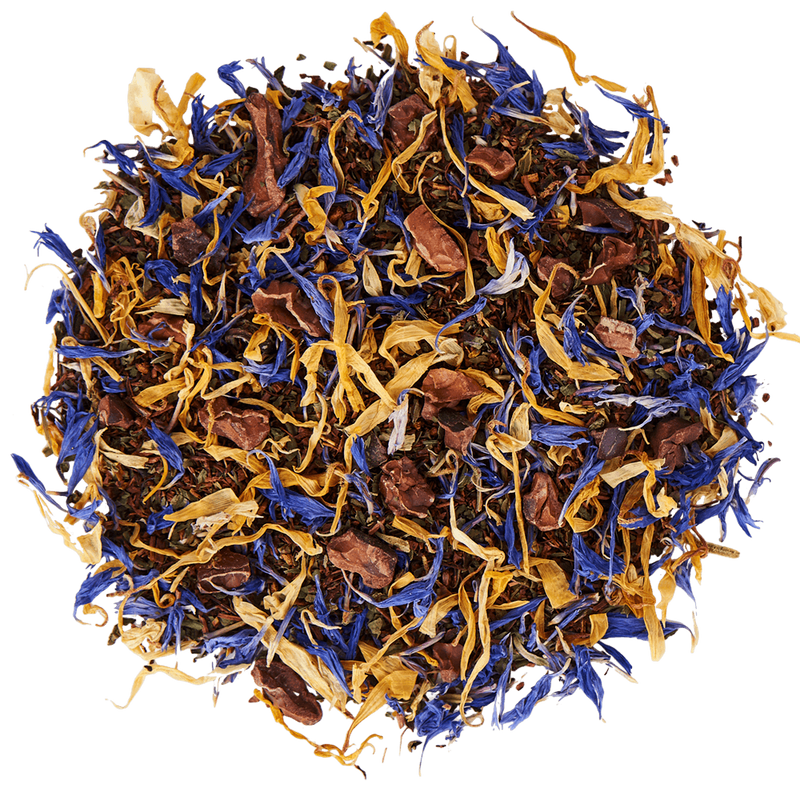 DESCRIPTION
Chocolate Mint Organic Rooibos Tea blends rich dark chocolate and invigorating mint offset by a touch of sweet, woody cinnamon. This delicious beverage has the power to hydrate and fortify with the healthy vitamins and minerals coming from this pure tea and selection of herbs. Serve Chocolate Mint Organic Rooibos Tea either on ice or warm. It's a treat to the senses.
TASTING NOTES
Sweet chocolate aroma and smooth minty flavors
INGREDIENTS
Rooibos*, Peppermint*, Spearmint*,  Organic Flavor*, Cocoa Nibs*,  Cornflower*, Calendula*, *Certified Organic
Caffeine

Who Grew Your Tea?
South Africa is best known in the tea world for Rooibos and Honeybush. Fraser Tea carefully sources both Organic varieties from this region.  These native plants produce caffeine-free and healthful herbal teas, or tisanes. The plants are native to and grown...
Learn More
Brewing Method

1 tsp/sachet

205°F

5 min

2 tsp/sachets
for iced tea