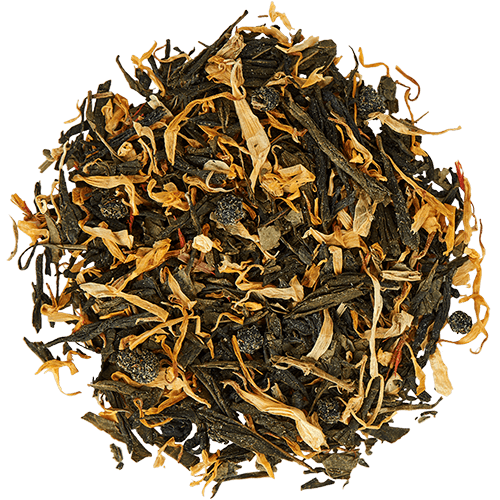 DESCRIPTION
Designed to increase overall well-being, Honey Ginseng Organic Green Tea offers all the benefits of detoxifying ginseng and mint with sweet tea while adding organic ingredients to amplify its flavor. Take in the fresh Michigan-grown blueberries ginseng and organic green tea for a tranquil beverage . Notes of fresh lemon balm alongside spearmint and peppermint are also welcome flavors of this sweet green tea.
TASTING NOTES
Fruity, minty with subtle sweet honey flavors
INGREDIENTS
Green Tea*, Siberian Ginseng (Eleuthero Root)*, Spearmint*, Peppermint*, Organic Flavor*, Lemonbalm*, Calendula*,  *Certified Organic
Caffeine

Who Grew Your Tea?
Fraser Tea handpicks only the finest tea leaves, flowers, herbs, and bark from sustainable farms across the globe to craft its organic tea and original blends. Ingredients are sourced as far away as India, China, South Africa, Sri Lanka and...
Learn More
Brewing Method

1 tsp/sachet

175°F

2 min

2 tsp/sachets
for iced tea