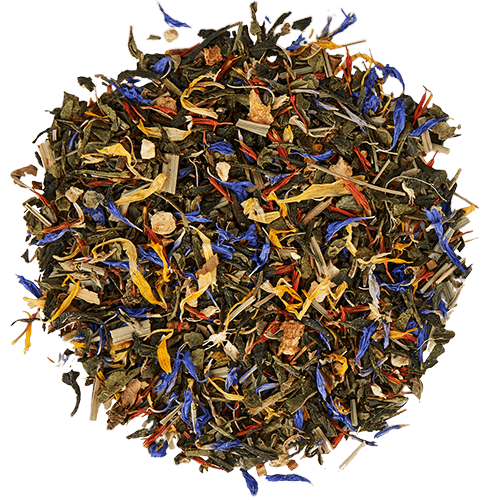 DESCRIPTION
Ginger Lemonade Organic Herbal Tea blends the sweetness of the honey bush with organic peppermint, ginger root, a fresh burst of lemon balm, and fragrant lemongrass to invigorate your senses and palate.  This zesty tea will not only awaken the senses, but also deliver the health benefits of ginger and a clean lemony finish that may be enjoyed iced or hot.
TASTING NOTES
Tangy ginger, lemon-lime flavors with a smooth citrus finish
INGREDIENTS
Honeybush*, Peppermint*, Organic Flavor*, Ginger Root*, Lemon balm*, Lemongrass*, Hibiscus*,  Lemon Peel*, Safflower*, Cornflower*,  *Certified Organic
Caffeine

Who Grew Your Tea?
Fraser Tea handpicks only the finest tea leaves, flowers, herbs, and bark from sustainable farms across the globe to craft its organic tea and original blends. Ingredients are sourced as far away as India, China, South Africa, Sri Lanka and...
Learn More
Brewing Method

1 tsp/sachet

205°F

5 min

2 tsp/sachets
for iced tea