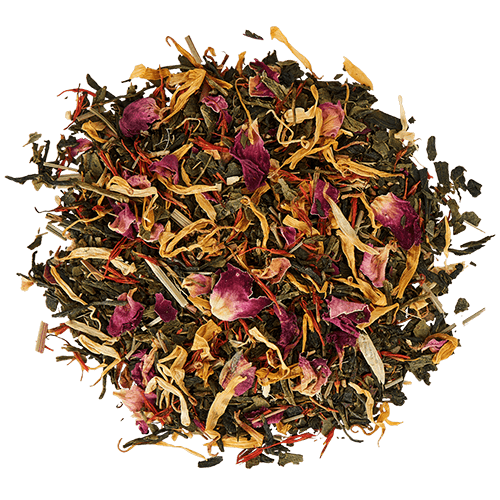 DESCRIPTION
A perfect organic green tea digestive blend, Soothing Lemon Mint Organic Green Tea is the best blend to choose for tummy-troubled times.  Combining nausea-calming ginger root with stomach-soothing fennel, relaxing mint, and detoxifying lemon balm and lemon verbena, the aroma and flavor are pleasing any time.  Useful to help restore health and wellness, this harmonious blend can be enjoyed hot or over ice.
TASTING NOTES
Minty and Lemon flavors with crisp finish
INGREDIENTS
Green Tea*, Spearmint*, Peppermint*, Ginger*, Organic Flavor*, Fennel*, Lemongrass*, Lemonbalm*, Calendula*, Safflower*, Rose Petal*, *Certified Organic
Caffeine

Who Grew Your Tea?
China leads the world when it comes to the production of tea.The tea industry accounts for more than 1 million tons of tea harvested annually and employs more than 80 million people. When Fraser Tea founders sought to source its...
Learn More
Brewing Method

1 tsp/sachet

175°F

2 min

2 tsp/sachets
for iced tea