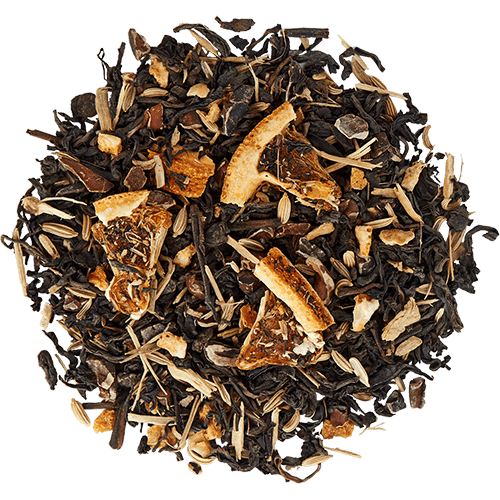 DESCRIPTION
For a delicious treat that is ripe with many health benefits, try Polka Dot Bikini Organic Pu-erh Tea.  Believed to help break down fat cells, organic pu-erh tea is blended with fresh cocoa nibs, orange peel, fennel, and powerful eleuthero root to bolster stamina. Crafted with your health in mind, this is the tea to try when you workout, take long walks on the beach, or are facing a long work day. Enjoy its rich complex flavors either warm or cold.
TASTING NOTES
Sweet chocolate and licorice flavor with earthy citrus aroma
INGREDIENTS
Puerh Tea*, Orange Peel*, Cocoa Nibs*,  Organic Flavor*, Fennel Seed*, Eleuthero Root*, *Certified Organic
Caffeine

Who Grew Your Tea?
China leads the world when it comes to the production of tea.The tea industry accounts for more than 1 million tons of tea harvested annually and employs more than 80 million people. When Fraser Tea founders sought to source its...
Learn More
Brewing Method

1 tsp/sachet

195°F

2-3 min

2 tsp/sachets
for iced tea