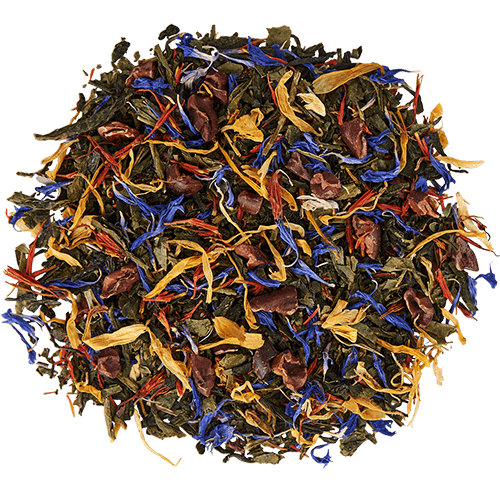 DESCRIPTION
Mint Chocolate Chip Organic Green Tea is a delicious combination of dark chocolate cocoa nibs and fresh mint flavor creating a decadently drinkable and refreshing new tea experience. Realize the numerous health benefits of this unique organic green tea blend featurning a crisp minty flavor that can be enjoyed all day and is ideal served over ice.
TASTING NOTES
Sweet dark chocolate and minty flavor, light minty aroma with a smooth finish
INGREDIENTS
Green Tea*, Organic Flavor*, Spearmint*, Peppermint*, Cocoa Nibs*, Cornflower*, Calendula*,  *Certified Organic
Caffeine

Who Grew Your Tea?
China leads the world when it comes to the production of tea.The tea industry accounts for more than 1 million tons of tea harvested annually and employs more than 80 million people. When Fraser Tea founders sought to source its...
Learn More
Brewing Method

1 tsp/sachet

175°F

2 min

2 tsp/sachets
for iced tea